Whatever your budget, it's possible to bag some astonishing PS4 console bargains and games on Black Friday. Fancy four award-winning games for a paltry £50? A new PS4 Slim and a stack of hardware? Or a PS4 Pro with an incredible value new 4K TV and an amazing game bundle? We've got the lot, irrespective of your budget, directing you to the best deals like Nathan Drake leading Elena to the lost mythical land of bargains.
Budget: £50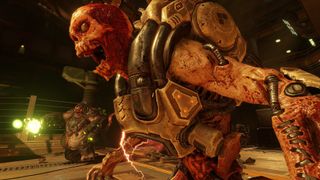 This section assumes you already have a PS4, so this is all about getting as much high-quality gaming for your money as possible. You won't be able to get every top game released in 2016, but there are some amazing bargains on offer here.  
Star Wars Battlefront: There's never been a better time to grab the DICE shooter. Rogue One DLC is on the way, and it's only £10.00 at Tesco Direct.
Save: £39.99
Doom: Don't wait. Just go and buy it. Doom is incredible, and this is an infernally good price. Get Doom for £15 from Game
Save: £34.99
Fallout 4: It's a bit older, but it's still fantastic, and at 13 quid this is a serious amount of post-apocalyptic bang for your buck. Fallout 4 is £12.99 from Amazon
Save: £37.00
Batman: Arkham Knight: Rocksteady's last outing as The Bat is worth grabbing at this price – it's just £12 from Tesco. 
Save: 37.99
Total spent: 49.99
Total saved: £149.97
Budget: £500
An ideal entry point for new PS4 players. £500 isn't enough to furnish you with a full 4K gaming setup, and PS VR has stock availability issues, so this selection is about setting you up with a slick new PS4 Slim, some official hardware and a stack of great games from the last 12 months.
PS4 Slim 1TB: Pick up Sony's new slimline console with The Last of Us, Uncharted 4, Driveclub and a 2 month Sky cinema pass for an absolutely incredible £249.99 at GAME.
Save: £169.98
PlayStation Wireless Headset: If you're keeping things official, you can't go too wrong with these stylish cans. They can be used both wireless and wired, so they're perfect for PS VR when you decide to take the plunge. You can grab them for £47.49 from Amazon.
Save: £22.50
Dualshock 4 controller: Your bundle comes complete with a Dualshock 4, but you'll want another for all those late night sessions making the most of the excellent multiplayer games on PS Plus. Get it from Amazon for £37.99 
Save: £7.00
Official Dualshock 4 charging station: It's not quite as essential as games and a controller, but if you've got two controllers this is a stylish way of keeping them fully charged (plus it fits in with the all the other official PS4 gear on this list). Get it at Argos for £14.99
Save: £10.00
Battlefield 1: It has a brilliant campaign, fantastic, chaotic multiplayer and it looks wonderful. Grab Battlefield 1 for £32 from Amazon
Save: £17.99
Titanfall 2:  It's one of the best single-player campaigns of the the year – perhaps one of the best ever – and you'd be mad to pass this up at £28 from Amazon
Save: £21.99
Rise of the Tomb Raider (PS4): Grab Lara's latest adventure including all DLC and an exclusive PS VR mission for a brilliant £29.99 at Game
Save: £20
Rainbow Six Siege: Round up your PS4 Slim extravaganza with this excellent multiplayer shooter, available for a tidy £16 at Tesco Direct.
Save: £33.99
Watch Dogs 2 Deluxe Edition: It's a bright, surprising follow up to the first Watch Dogs game, and the time you actually get it, hopefully the multiplayer will probably be fixed! Bonus. Get it from Game for £34.99
Save: £15
Doom: As I mentioned above, Doom is simply brilliant, and this an amazing opportunity to grab it. Get it for £15 from Game
Save: £34.99
Total spent: £506.44
Total saving: £353.44
Budget: £1000
Okay, this is the big one. If you're prepared to drop a significant amount of cash, you can basically upgrade your entire gaming experience in a single day. A single, expensive day. You can fully embrace (sort-of) 4K gaming on this budget, complete with a selection of games that make the most of your new setup. It's worth considering PS VR as a plan B – I haven't included it here, because we're not expecting any significant VR price drops for Black Friday.
PS4 Pro: An obvious place to start. The price hasn't fluctuated much for Black Friday, so £332.49 is about the best you'll find, and it comes with a two year warrantee. Get the PS4 Pro for £332.49 from Tesco.
Save: £17.50
LG 50UH635V 50″ 4K TV: Go on, treat yourself. It's Black Friday, and you're an excellent human being. This 50" Ultra HD 4K Smart TV is an absolute bargain – the perfect thing to show off your swanky new games. Pick up the LG 50UH635V 50″ Ultra HD 4K LED Smart TV for just £449.99 from eBay UK.
Save: £400
Sony PlayStation Wireless Stereo Headset 2.0: These cans can be both wireless and wired, making them ideal for PS4 and use with PS VR. You can grab them for £47.49 from Amazon.
Save: £22.50
Titanfall 2: Don't let anyone ruin the endless surprise of the Titanfall 2 campaign – grab one of the year's best shooters for
Save: £21.99
Rise of the Tomb Raider:  Lara's latest adventure will look incredible in 4K, and it includes all DLC and an exclusive PS VR mission for a brilliant £29.99 at GAME.
Save: £20.00
Star Wars Battlefront: 'This is the deal you're looking for…' *Waves hand* There's brand new Rogue One DLC on the way, so prepare yourself by picking up Star Wars Battlefront for an easy £10 from Tesco.
Save £39.99
Call of Duty: Infinite Warfare (PS4): It's a smart, stellar update to the established series, and it's yours for only £29 from Tesco Direct.
Save: £20.99
Dishonored 2: Grab this incredible stealth action game at a bargain price, and enjoy one of the most immersive gaming worlds ever created. Dishonored 2 is £29.99 from Amazon.
Save: £20.00
Overwatch: It's one of the best competitive shooters ever made, and the winner of five Golden Joystick Awards. Grab Overwatch from Amazon for just £25
Save: £24.99
Dark Souls 3: Grab the Golden Joystick Game of the Year 2016 for a superb £19.99 at Argos.
Save: £30.00
Total spent: £1001.94
Total saving: £617.96