Black Friday is here, and eBay has some absolutely stunning games, console, and tech deals right now. Yes, eBay. Think eBay is just about second-hand deals and used stuff? Think again. The site is offering some stonking Black Friday and Cyber Monday bargains on brand-new gaming tech – and not a lot of people know about it, so these deals are extra special. We've been keeping a close eye on them to scoop the best bargains for you. And here they are…
Consoles and bundles
• PS4 Slim 500GB: Bargain! Get Sony's new slim console with Call of Duty Infinite Warfare for an incredible £189.00.
• PS4 Slim 500GB: Get the console with Lego Star Wars, Dishonored 2, and The Lego Star Wars movie for an amazing £229.00.
• PS4 Slim 500GB: This console comes with Lego Star Wars and The Force Awakens for a brilliant £189.00. Wow!
• PS4 Slim 500GB: Maybe you fancy a new PS4 Slim with Rockstar's awesome GTA5? This one is a great value £189.00.
• PS4 Slim 500GB: Grab yourself a new 500GB Slim PS4 with both GTA 5 and Dishonored 2 – two top games – for a very reasonable £229.00.
• PS4 Slim 1TB: Fancy a PS4 with extra storage? And three top games – Uncharted 4, Driveclub, Last of Us Remastered… all for £224.99? Of course you do.
• PS4 Slim 1TB: Of course, if you want a PS4 with 1TB of storage and you fancy a different set of games… get the console Uncharted 4, Driveclub, and Ratchet & Clank for the great price of £239.99.
• Xbox One S 1TB: Grab this ultra-powerful console with heaps of storage, plus FIFA 17, for a seriously reasonable £293.85.
• Xbox One S 500GB: Oooh, a lovely white Xbox One S with Minecraft Favourites? It's yours for only £249.99.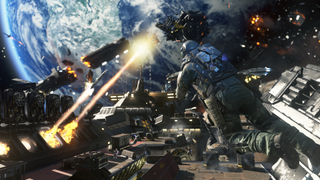 Games
• Call of Duty Infinite Warfare (PS4 and Xbox One): The biggest shooter of the year, yours for a ridiculous £29.00.
• Halo 5 (Xbox One): Did you miss Master Chief's latest adventure? Grab it now for a piffling £15.95.
• XCOM 2 (PS4 and Xbox One): You can now pick up the Resistance Warrior pack for a seriously small price of £25.85.
• Dying Light: The Following (PS4 and Xbox One): Wowzers. This zombie survival game is going cheap at £15.85 on both consoles.
• Shadow of Mordor (PS4): Grab this Game of the Year edition, which has been enhanced for PS4 Pro, for a seriously good price of £16.85.
TVs and tech
• LG Ultra HD 4K LED Smart TV: This superb 4K TV is great for gaming, and anyone who owns a PS4 Pro or Xbox One S will feel right at home with it. Grab it now for £449.99!
• Limited Edition Xbox One controllers: There are plenty of special edition controllers to choose from here – from Halo 5 to Limited Edition White. Snatch one today for £44.95.
• X-Rocker Spectre Chair: This comfy gaming chair will cradle your body for hours at a time, and it's only going to cost you £39.99.
• Panasonic Full HD Smart LED TV: It's not 4K or HDR, but this full HD Panasonic TV is still a massive bargain at £354.99.
• Samsung 2.1 Wireless Sound Bar: If you have a decent TV and a console, you need superior sound. This wireless sound bar is just the job at £117.99.